CJ Affiliate program is constantly appearing, and you are interested in registering to become a publisher. But you need to learn more about this affiliate program: how to sign up, products, and payment methods, v.v. So please refer to the reviews about CJ's affiliate program in this article.
FAQ about CJ Affiliate
This article makes you fully understand the CJ affiliate program if this is the first time you have learned it.
What is CJ Affiliate?
CJ was established in 1998 in Santa Barbara, California; CJ Affiliate; is one of the world's largest and oldest affiliate marketing networks. It specializes in work with pay-per-performance plans and is part of a Fortune 500 company called Alliance Data Systems.
Operating for more than 20 years, CJ is a fantastic affiliate marketing giant with 15 offices worldwide and over 3000 merchants. Do you want to work with big names like J.Crew, Barnes & Nobles, or GoPro? It is CJ's affiliate network.
How is the CJ Affiliate Program different from other programs?
CJ Affiliate has some outstanding features compared to Amazon Associates, ClickBank, ShareASale, eBay Partner Network, and other affiliate marketing programs.
Stellar real-time reporting
CJ Affiliate is famous for its analytics, which is updated every minute. It means you never have to refresh the page because you can track your activity as it happens.
It can be overwhelming navigating the dashboard the first few times. But when you spend more time exploring this affiliate software, everything becomes intuitive. You will also realize how invaluable this feature is.
With these insights, you'll know the affiliate products that work best on your blog and how to create content that your readers will love.
Lots of options
Many affiliate programs do not offer this feature, but CJ is different; it has a lot of options. You can choose whatever schedule suits your interests, and easily choose what and where to advertise as a marketer. This feature gives you a premium advantage.
Royal mode for star Publishers
Is your blog content at the top? Does your blog have more than 10k visits per month? If so, consider the CJ Affiliate's Content Certified program.
Being a certified content publisher will automatically connect you to over 600 brands – but the most popular.
This compelling perk also enables you to access pre-approved advertisers for premium rates while maintaining editorial control over your blog content.
What are the requirements to register for CJ Affiliate?
Marketers can join CJ's affiliate program completely free of charge, provided that:
You are 18 years or older.
You have a website to register as a seller.
What if you own multiple websites? You don't need to set up multiple accounts; just go to Account> Websites > Add Website.
* Note: If your website is newly established with little traffic and no results within the first six months, you may be disqualified from participating.
What Affiliate programs are available on CJ Affiliate?
CJ is proud to be a platform with many spoiled programs for you to choose from. Therefore, it is suitable for all bloggers.
When you go to Links > Search, you'll see special filters on the left, for example:
Events: Mother's Day, Christmas, Cyber Monday
Promotion Type: Sales, Hot sweeps, Hot product
Link Types: Banner, Text Link, Content Link
Let's say you own a health blog and want to promote medical equipment in your blog post "7 best healthcare gadgets (up to …).
With this goal in mind, you can choose to:
Category: Health > Equipment
Promotion Types: Sale/Discount
Link Types: Banner, Text Link
and choose the ads that best suit your content.
Most offers on CJ affiliates are cost per purchase (CPA) – such as pay per sale, per lead, or call. Sometimes some advertisers will pay per view or click.
The affiliate payment method of CJ?
As a publisher, you get paid via direct deposit, check, or Payoneer (for non-US residents).
Payment term: within 20 days from the end of the month, with a minimum payment threshold of 50 USD (direct deposit) or 100 USD (Check).
Affiliate revenue from multiple programs will be aggregated in one Account.
For international users, Payoneer offers over 150 currencies with zero spreads. Commissions are processed according to CJ Affiliate's standard schedule.
Currently, CJ does not offer payment via Paypal or credit card.
Exactly CJ Affiliate or Commission Junction?
In 2014, Commission Junction's parent company, ValueClick, was renamed Conversant.
Conversant then rebranded Commission Junction as CJ Affiliate.
Therefore, you will often come across both CJ Affiliate (official name) and Commission Junction (the name for 16 years).
As such, you can call both names correctly. Now learn how to join CJ Affiliate and how it works.
How to register CJ Affiliate?
Go to cj.com and register as a publisher. Fill in personal information such as your name, email address, and preferred language. Click Next.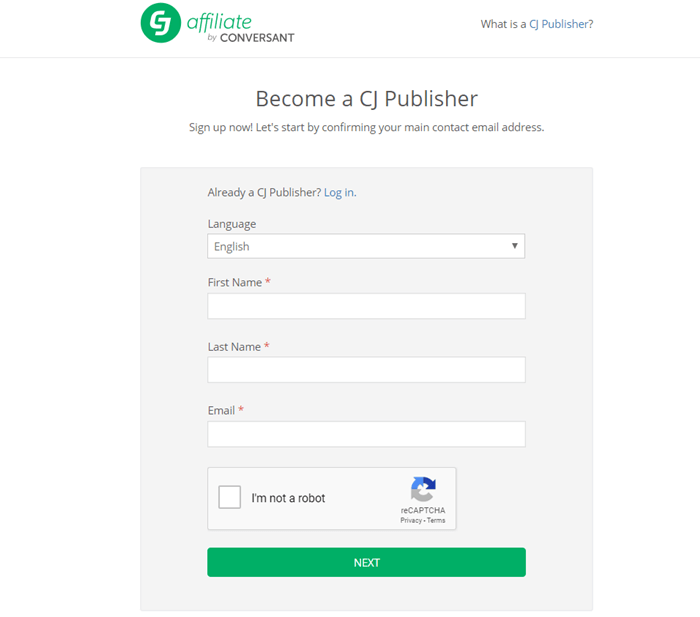 Find the confirmation email in your inbox and click the blue Create my CJ Publisher Account button: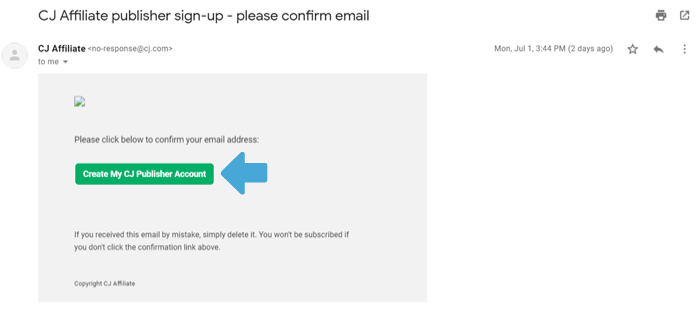 Then, you will be directed to the Publisher Sign-Up Form. Fill in your details and click Accept Terms to complete the registration.
Once you sign up, you'll be immediately directed to CJ Account Manager, a dashboard containing essential details like your network stats, performance summary, and notifications.
First, click Account> Network Profile. (Note: you need to complete this profile to join affiliate programs).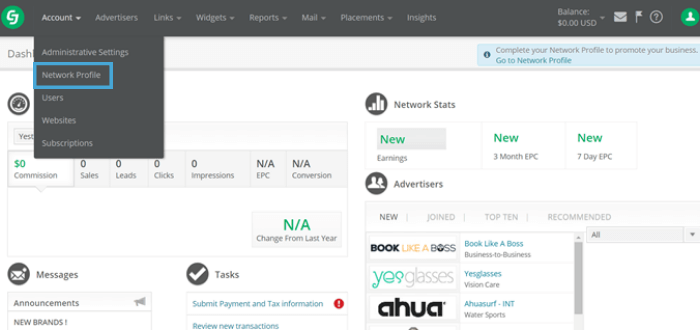 You will see these three sections in the Network Configuration:
Website description (Example: Share your site's strengths and relevant stats).
Promotion methods (Example: What affiliate channels do you use to promote advertisers? Is it blog posts, emails, social media or other digital marketing platforms? ?).
Documents (Example: Do you have a media kit? This is optional but will increase your chances of being selected).
Complete these three sections to show advertisers your value and how you extend their reach to your audience.
Next, click Account > Administrative Settings to edit payment and tax information.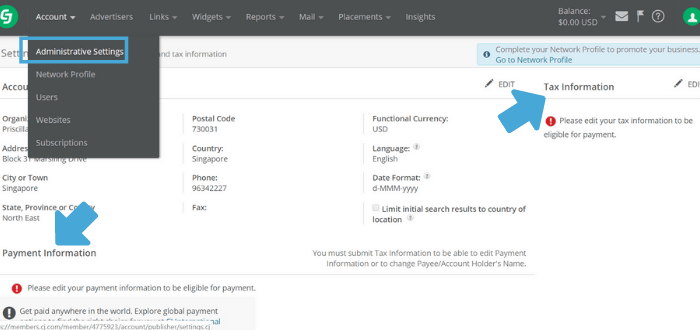 Edit payment information and choose if you want to receive money via direct deposit, check, or Payoneer.
Then edit your Tax Info. CJ Affiliate requires all publishers to submit their tax forms for payout.
– For Americans: W-9 Taxpayer Identification and Certification Required.
W-8BEN Certificate of foreign status of beneficial owner for tax deduction in the United States.
The certificate has no activity in the United States.
Helpful Tip: Be sure to submit a new tax certificate if you change your country or business type to receive ongoing payments.
How does CJ Affiliate work?
You must have at least a basic understanding of HTML to insert the tracking code into your website.
Step 1
To find advertisers in your niche, click Advertisers > Category.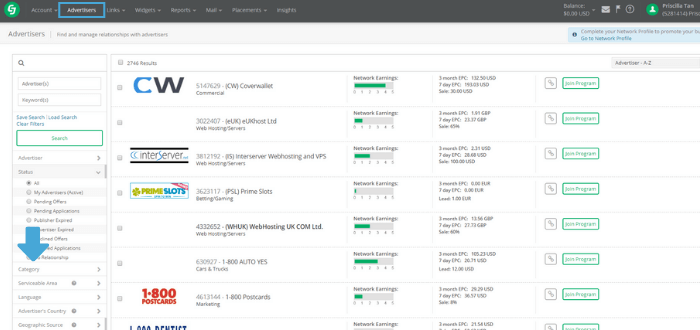 Before you start joining affiliate programs, find out what these three columns mean: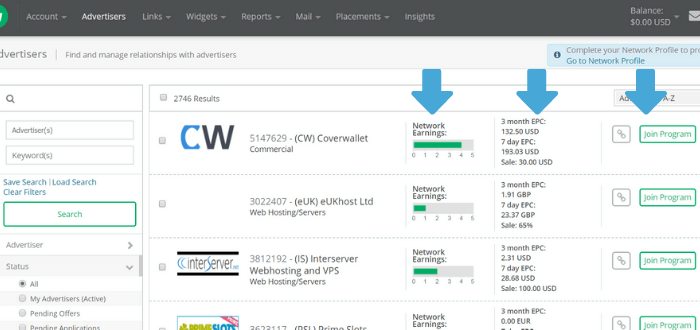 – Network Earning:
Display the performance of advertisers on CJ Affiliate.
The green bar shows the volume of commission paid to publishers. The longer this bar, the higher your commission.
New accounts are labeled "New" for the first three months.
– Earnings per click (EPC):
Measure the number of visitors you can attract through your website to generate revenue for advertisers.
In the 3-month and 7 day period, if there are less than 1000 and 100 clicks, respectively, the results will show N/A.
To view program details, click on the advertiser. It will tell you essential information like affiliate commission rate, policy, and referral time.
– Join Program:
Click this button to submit your application.
Approval or rejection review depends on each advertiser and can be automated or manual.
Responses usually take from a day to several weeks; please be patient.
Note: Advertisers on CJ Affiliate are now notoriously "picky." So if your website has not been approved, do not be discouraged. You can switch to another CJ advertiser that is more suitable for your blog.
Step 2
– Once approved, click Get Links.
– Next, select the button to receive code ():
Select the button to receive the code on CJ
There are four options:
HTML
JavaScript
Click the URL (to promote the search engine, aka Google and Bing)
Image URL (for products)
– After the customization is complete, copy the entire code and paste it into your website: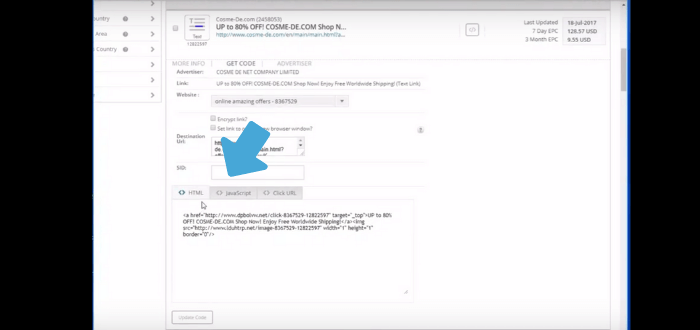 – To verify your tracking code, go to Reports > Performance Reports. Then adjust the filter to suit you and let it run for a while. If your affiliate link reports clicks or impressions, it has already started tracking.
If you are new to blogging with few hits per day, this may not be the right time for you to join the CJ network. But if you are a blogger with a steady audience or a business with high traffic on your website, CJ is perfect for you.
Sign up for CJ Affiliate today as a publisher and experience it yourself!